Inclusive Learning for Students
Kingsmoor Academy is a part of the Erasmus+ project "Inclusive Learning for Students".
The countries who are take part in this project with us are:
This is a project whereby teachers from countries around Europe get together and share good practice, especially around Inclusion.
Meeting 1: Planning in the UK
Meeting 2: Peer tutoring in Italy
Meeting 3: Team teaching in Poland
Meeting 4: Project-based learning in Greece
Meeting 5: Cooperative learning in the UK
Meeting 6: Personalisation in Turkey
Italy – Peer tutoring
The second part of our Erasmus meetings took us to the quaint town of Ortona in Pescara which is to the east of Rome in Italy. It was lovely to once again meet with all of the delegates and also introduce ourselves to any new members. Our first morning in Ortona blessed us with snow, and lots of it. As a result of this the schools closure was announced and a quick rearrangement of the itinerary meant that, following a walk around the local area, we would have a meeting in order to present the outcome of our Peer Tutoring activities which took place within our schools. It was wonderful to see that even though our focus was the same 'Peer tutoring' our representations of this and the way in which it is carried out within our schools is uite varied and different. During the next couple of snow days, meetings continued and delicious lunches were served. By Thursday the snow had cleared and we were able to visit the local group of schools, the children had evidently worked very hard in preparation for our visit and were able to perform a range of songs and presentations. Once the snow had cleared and the meetings were complete, it was time to taste the cultures of Ortona, literally, we were able to experience a traditional Oil mill and a winery. Our final evening was spent at dinner together with the families who had accommodated all the children.
Poland – Team Teaching
During the third part of our Erasmus project , we found ourselves at Warsaw. On our arrival we did some sightseeing around the beautiful capital of Poland where we experienced famous buildings such as memorials and museums. The next day we visited the local primary school in Blizanow, it was lovely to see the children in action whilst they carried out their learning within a range of diverse activities.
On Tuesday we commenced meetings where we celebrated all the work which our teams have been carrying out in their schools related to Team Teaching.  Following this, the teachers were highly enthused by the fun activities which were planned for us including sports, games and even some cooking where we mastered the making of Polish dumplings called 'Pierogi'.
All in all our trip to Poland was very productive and we were able to have valuable discussions related to the different ways that we teach and learn across all of our countries.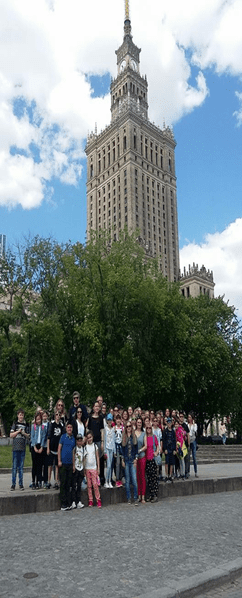 Greece – Project-based learning
The next   part of our Erasmus meeting was held in Greece. Three delegates from UK went to Chios.  Chios Island is one of those travel destinations that will stay in our minds for years to come. Not only were we amazed by the history and medieval villages, the mastic culture and the pristine beaches, but the people we met really made an impact on our trip. During our educational trip we discussed next teaching strategy which is Project Based Learning. We shared our knowledge and an experience from our schools. During those meetings we also had a chance to explore the school and garden with mini zoo.  We took a part in lessons at 3rd Primary School in Chios. We also had a chance to discuss the next steps. z